CONCERT REVIEW
ELTON SIGNS AN AUTOGRAPH!!
Well where do I start?? It really has been some week! I flew to Georgia to a friend's house (THANX A MILLION JANET!!) on saturday the 20th of February. After a brief stop off at the Buckhead Diner for some lunch and another stop at EJ's house (just to check things out), we headed to Chattanooga for the concert. It took us a good 2 hours to get there but as the saying goes : LADY LUCK WAS ON OUR SIDE!! About 6 pm or so, we walked up to the box office of UTC to see what seating was available. Turns out they had 2 seats in the 19th row on the right side of the stage. We immediately bought those 2 seats and set about selling our tickets which were in not such a good seating section.
After unloading the tickets, we went in front of gate 3 to wait for the place to open. There was a radio station there. Sorry folks, cant remember the call letters. But they were having a contest. They had already chosen 3 finalists. The contestants had to rewrite the words to an EJ song and include the station and sitting in the front. It was all very entertaining. We could hear Elton doing the sound check and practicing some songs. The song we could hear most clearly was "friends" so we were prepared for that song during the show.
Finally they let us file in!! YIPPEE!!!! We get to our seats and think "THIS JUST WILL NOT DO!" so we immediately start to walk around getting closer and closer. By the time the show started, we were in the 7th row! LOOKING GOOD!! Elton came out wearing his usual customary Black suit. It did have nice sequins on the left pocket. He started out the show with YOUR SONG then played BORDER SONG. The only real surprises of the set list I would have to say is BETTER OFF DEAD and TICKING! He played these songs with such enthusiasm and emotion I couldn't believe there wasn't a better reaction from the crowd. Quite a few times my friend and I were asked to sit down. HOW ARE WE SUPPOSED TO SIT DOWN AT AN ELTON JOHN CONCERT??? The audience was pretty much acting like an Oil Painting rather than a concert crowd. Well Janet and I finally made it to the front row and were screaming our heads off and singing along with Elton!!! The show was a complete success in our books. HE REALLY ROCKED THE ROOF OFF!
The next few days went by business as usual. But Tuesday the 23rd of February was quite another story. Janet and I woke up about 4 am to get ready to drive into Atlanta as Elton was supposed to be on a Morning radio show called STAR94 with Steve and Vicki. On the way into Atlanta we were tuned into STAR94 and Steve said "We are expecting ELTON to pop in and say hello any minute now." He then started talking about the show at UTC and said something about Elton playing Carla/Etude. He thought it was a new record and asked that any listeners call in who knew the song. Janet and I immediately called in and got through (SURPRISE - NO CALL SCREENERS!) We told him it was from the FOX album. Then he asked where I was from and when I replied Pennsylvania, he said "YOU CAME DOWN FOR THE ELTON SHOW?? WHY???" I said WHY NOT! I then told him about my tattoo. I am sure he thought I was nuts!! We arrived at STAR94 around 6am and sat in the lobby of the building like 2 good quiet little girls. We certainly didn't want to attract attention and risk getting thrown out. But as luck would have it, Elton never showed. Anyway at this point it was about 8:30 am and we decided to take a ride past Elton's apartment and see if he was on his way out anywhere. NOTHING! So we decide to go to Elton's favorite store in Atlanta. We hustle to this "SECRET" store (SHHHHH DONT TELL!!!) and camp out in the car to wait for it to open. When it finally does, We high tail it in and start looking around and making a few purchases. After a few minutes a clerk comes over to me and says "Its a good thing you are wearing that jacket, Elton will be in in a few minutes." I just said "NAH he has a show tonight, I doubt he will wake up so early to go shopping" But after about another 10-15 min. the same clerk comes over and says "come with me". I said "WHY??" She just said "COME ON! NOW LOOK UP!" When I looked up, there in front of me was ELTON WALKING IN THE FRONT DOOR! I nearly passed out. He then came and stood next to me looking at some items. I nearly passed out. I got so nervous that I just had to walk away from him (IMAGINE THE CHANCE OF A LIFETIME AND I TURN INTO A JELLY FISH!!!!!!)
Eventually I got up the nerve to go over and ask Elton for an autograph and also to show him my tattoo. Then there was a trouble maker outside so they really weren't allowing people in the store again. But Janet and I walked in and got to stand next to Elton and spoke with him and his bodyguard. It was so amazing! And best of all, he was so sweet :o)
Around noon time we met up with a friend "EJFAN", or Scottie. We told her what happened that morning and showed her around Atlanta. Of course one of the stops on this guided tour was Elton's place. Scottie and I jumped out of the car and took pictures outside his place, next to the marquis, in the flower bed. Then on impulse we decided to see where he parked his car (A BEAUTIFUL HUNTER GREEN MERC SL500 WITH SADDLE INTERIOR!! RAG TOP TO BOOT). The building's garage is set with an electronic gate so when it opened, we were tempted to run inside but the thought of being locked in wasn't too promising so we just ran around the property outside. WE WERE LIKE 2 FROLICKING KIDS! All of a sudden, 8 Policemen pulled into the drive of the apartment building on motorcycles. I thought someone had complained and they were there for us, but as Scottie so nicely pointed out "THEY WOULDN'T SEND ALL THOSE COPS TO GIVE US A TRESPASSING TICKET!" I completely lost track of the time, THEY WERE THERE TO ESCORT ELTON TO THE FOX THEATRE!! YIPPEE!!!! Now we really had to haul ass to get to where the backstage entrance is for the theatre. We made it in record time and were waiting outside the entrance with plenty of time to spare. Elton's limo (along with 8 of Atlanta's finest) pulled up and Elton stepped out of his RIDE LOOKING GOOD!! He was wearing a cool red NIKE jacket with black and red spandex pants. He stopped right in front of us (DONT WORRY GIRLS I WONT SAY WHAT HE DID IN THE LIMO! HAHA) and signed an autograph for Scottie!!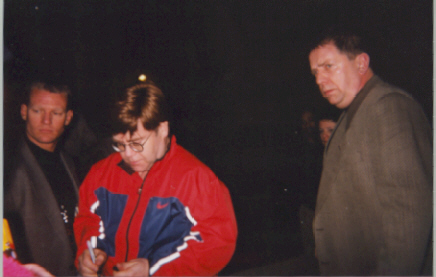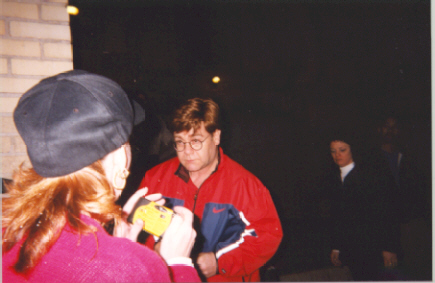 CHECK IT PEOPLE!!! THIS IS ELTON SIGNING AN AUTOGRAPH FOR SCOTTIE!!!!! AAAAAHHHHHHH!!!!!
HERE WE ARE!!! FROM LEFT TO RIGHT - JANET, SCOTTIE AND ME!!! THE 3 ELTONFANATICS!!! WOO WOO WOO WOO!!!