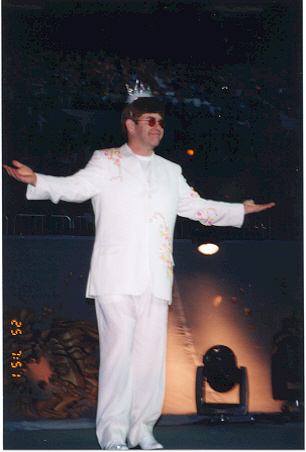 IS ELTON HAVING A TANTRUM OR IS THAT A TIARA??
Ok Where to start. Lets see. I flew into Atlanta on 9/23/99 in the evening. Janet (THANKS BUDDY!) met me at the airport and you could cut our excitement with a knife! We finally managed to get some sleep. BUT....It was to be an early morning so we weren't going to get much :)
Morning finally came and we were up and ready about 6 am. We wanted to head down to Phillips Arena first thing and check it out. Turns out we got there just as they were setting up the stage for the nights show! What a rush! There we were in the middle of Phillips arena with all the stage crew and NO ONE BUT NO ONE was bothering us!! We got to snap a pic or two of the stage being set.
We stayed watching for a while, but then decided to walk around the CNN building. We saw a marquee for Reggie's British Pub , which I thought was cool so I took a picture of it. Then we kind of just wasted time till Scottie arrived. When she finally arrived. We made our way back to the Arena. We were all pumped. We had front row right in front of Elton's Piano. That's right, Section 3 Row A Seats 5 6 and 7 . We brought our cameras, but since we weren't sure of the policies at the Arena decided to giftwrap the cameras in case NO pictures were allowed. Fortunately for us, They never checked. So once we were seated, we unwrapped our cameras and made sure there was plenty of film on hand.
I had brought the Banner from Last Years Big Picture tour. When Elton came out on stage, we opened up the banner and held it out for him! He looked right at us! He must have thought : "WHERE THE HECK DID THEY GET THAT THING??" haha. He started the show with the usual YOUR SONG. He went through the set list and it was pretty much the same as the last show I attended in June UNTIL he performed "SWEET PAINTED LADY,HARMONY, ELTON'S SONG AND EMPTY GARDEN". I was so shocked. And was totally blown away by Elton's Song. That is my ALL TIME FAVORITE SONG!!!!! He also took out "I dont wanna go on with you like that" and substituted "Philadelphia Freedom" which in my opinion, doesn't work without the band. ELTON PUT IDWGOWYLT back into the set list. Philly Freedom just doesn't cut it!!!
After the show, we went to the Hard Rock and had a bite to eat, then went back to Janet's house. We attempted to get some sleep, but after such a PERFECT performance, it was a bit hard. We reminisced all night long and couldn't wait till the next day to get our pictures developed. We had taken about 9 rolls of film between the 3 of us :)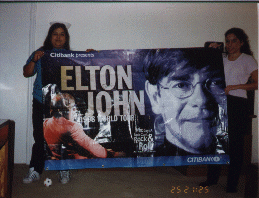 HERE WE ARE HOLDING THE BANNER!!